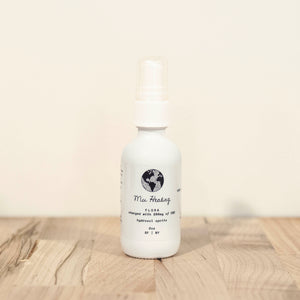 2 oz | 200 mg CBD
Flora CBD Hydrosol is our gentle, all-natural Jill of all trades. Use it to tone, hydrate, and refresh your skin. It's also great for after-sun care whether for cooling, treating sunburns, or preventing skin peeling from overexposure to sun.
As a precaution with any new product, test hydrosol on a small part of your skin before regular application.
Ways to use hydrosols:
Spritz on face and neck whenever your skin calls for a refresher; even over makeup. When using hydrosols, we suggest you close your eyes, hold your breath, and spray your face from half an arm's length away to avoid potential stinging or inhaling vapors.
Can be used as a toner after facial cleanser and before moisturizer. Close your eyes and spray your face from half an arm's length away. With a cotton ball (cotton pad, or damp cotton cloth), gently wipe to remove excess dirt, oil, and/or makeup to unclog pores. Alternatively, you can spray onto face and gently pat into skin.
Ingredients:
Full spectrum CBD extract in glycerin*
Aloe
Witch hazel
Calendula
Rose
Lavender
*CBD is non-psychoactive
Warning: this product is intended for external use only.
A gentle reminder to please recycle or reuse your empty containers whenever possible.