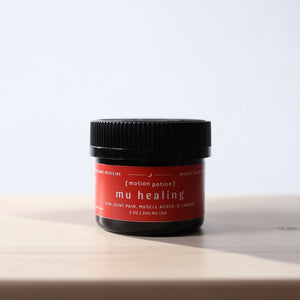 2 oz | 200MG CBD
Motion Potion Pain Ointment with CBD is our bestselling item and the product that started it all...
Motion Potion was created for the relief of muscle and joint pain. However, the list is ever-growing as we discover more and more uses for it through our customers and our own trials. From easing menstrual cramping, arthritic pain, achy knees after workouts, to stress-related facial spasms.. we are continually amazed by this product's endless capabilities.
DIRECTIONS
Start with a small scoop and massage into the area where pain occurs to melt the product and increase circulation to the area. Apply liberally and as needed.
Test on a small area and monitor for reactions before applying.
HERBALIST'S NOTES
Each body is different and therefore reacts differently to different stimuli. Some of our customers report immediate results while others require prolonged use. However your body responds, we recommend using this and other plant medicines patiently and regularly as plants take time to acclimate with your body.
INGREDIENTS
Full spectrum CBD-infused coconut oil (**, *), mango butter (*), beeswax (*), ginger root (*), cayenne (*), calendula oil, cinnamon essential oil, cardamom essential oil, vitamin E oil (*)
**CBD is non-psychoactive
*Certified organic
Learn more about Motion Potion.
FDA DISCLOSURE
These statements have not been evaluated by the FDA. This product does not intend to treat, diagnose, cure, or prevent any disease.