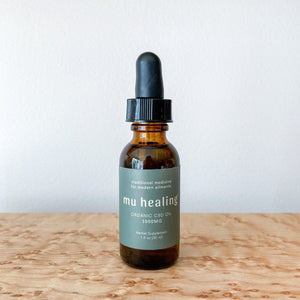 1 oz | 30 ml
INGREDIENTS
Certified organic MCT oil (coconut), full spectrum hemp* (aerial plant parts). Less than 0.3% THC.

*Made from organic US grown hemp

DIRECTIONS
Take 1 dropper (1 ml) under the tongue and hold. Count to 10, then swallow. Repeat as desired. 
This bottle contains 1000 mg of CBD and each full dropper contains 33mg. CBD is non-psychoactive.
HERBALIST'S NOTES
If you are a new user, below is a general guideline to help you get started:
General wellness, anxiety: 2.5 - 15 mg, daily
Chronic pain: 2.5 - 20 mg, daily
Sleep disorders: 40 - 160 mg, daily
Keep in mind this is a suggested guide and the effective dose varies by person. After regular use, you'll find that your dosage will fluctuate as your body adjusts to the intake. Be mindful of the effects and consult with your physician if you ever have questions about usage.
As with most plant medicine, CBD is not a miracle antidote. CBD works gradually, with regular usage, to achieve a balanced environment inside your body.


FDA DISCLOSURE
These statements have not been evaluated by the FDA. This product does not intend to treat, diagnose, cure, or prevent any disease.